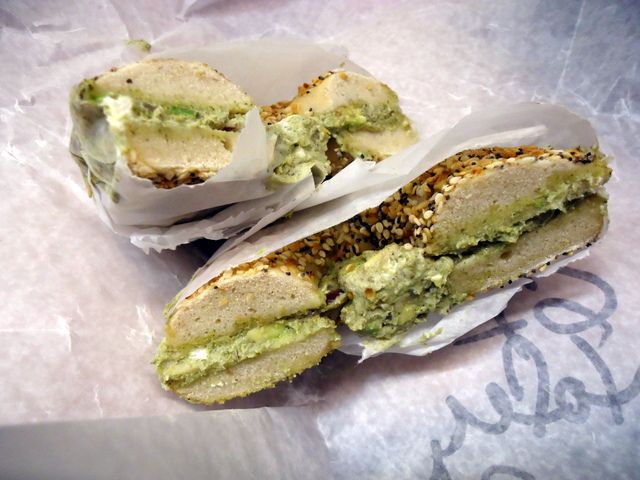 You better sit down. No really.
You are looking at a gluten free "everything bagel" (always my favourite) with vegan cream cheese, avocado and spanish onion. Yes yes but how did it taste you ask. AMAZING.
Vic's Bagel Bar is on the way to MOMA from downtown so I took a detour. I had heard they generally run out of gluten free bagels by 11am so it was one of the few days on my holiday I hustled to get out of bed before midday.
Poor ole Vic. The story goes that he was diagnosed as gluten intolerant not long after buying the bagel bar. So not only did he set about creating a really delicious, chewy and light gluten free bagel but the servers are highly educated in cross contamination. They use separate boards and knives for the gluten free section. They are also looking at getting a separate toaster (currently they will not toast it for you if you are coeliac).
So apart from the amazingness of the gluten free the rest of Vic's is pretty damn cool too. Instead of pre made sweet and savoury cream cheeses they make you a 'mixed in' on the spot. Choose from loads of different toppings, vegan or dairy cream cheese and they smoosh them all together in a bowl and put them on your bagel.
It's not very often I get jealous but Vic's made me green. Can someone figure it out here? PLEASE?!
deets:
544 3rd Avenue New York
web:
vic's bagel bar
$$:
ridiculously cheap - I think mine was $6?
other voices, other times:
sweet salty things
another gluten free blog
gluten free and the city