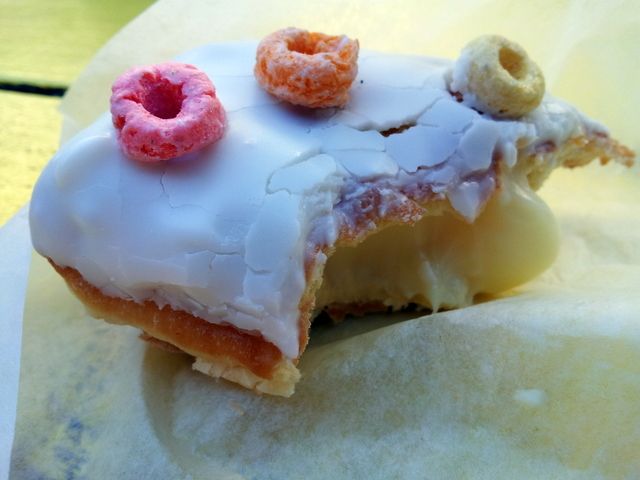 money shot
You simply can't go to Portland without visiting the mega famous Voodoo Doughnuts. As we arrived around 11am we thought it was perfect breakfast material!
First of all it's insanely busy. That sign right there directs you on how to queue and order, you can read it for a while as the line snakes out the door and down the road. They have vegan versions of almost all the doughnuts they make and saucy, naughty, innuendo implying boys selling them. Must be all that food colouring.
I wish I had taken a picture of my hand next to the blue doughnut for perspective, it was almost as big as my face. Not content with one massive blue glittery doughnut I asked what would he recommend? "depends, do you like things filled?" BAHAHAHA. "Why yes", "well I would recommend a GAY BAR".
A long vegan doughnut filled with vanilla vegan bavarian cream. Are you fucking kidding me?
So of course the rest of the story is I ate both and almost vomited from diabetic shock for 2 hours. But it was SO worth it.
I would highly recommend ticking off things on the
Foursquare Bridgetown badge
list. It took us to some really cool places.
deets:
Voodoo have
two locations in Portland and one in Eugene
web:
voodoo doughnuts
$$:
does it matter?
other voices, other times:
chef amber shea
nash vegie
in my vegan life
a vegan food snob
quarry girl