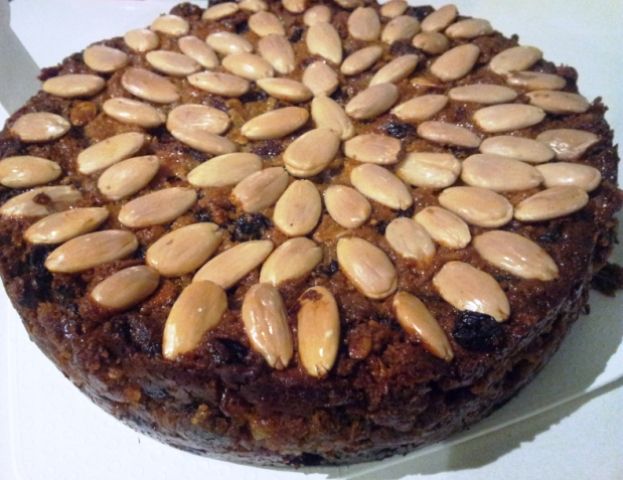 OMFG. Vegan. Gluten free. Full of rum, sugar and dried fruit. This is ridiculously easy and makes your house smell like a heavenly pixie land inhabited by unicorns for days.
Recipe tweaked from
Nigella
ingredients
350
gm
dried pear
250
gm
sultanas
250
gm d
ried apricot
175
gm
marg
200
gm
caster sugar
125
ml
white rum
200
gm
ginger marmalade
225
gm almond meal
35
gm
mixture sunflower & pumpkin seeds
¼
tsp g
round coriander
3 tbsp chia seeds (black or white)
9 tbsp of water
blanched almonds to decorate the top
method
1. Preheat your oven to 150 degrees celcius
2. Save yourself the hassle and roughly chop the pear and apricots in a food processor. You may have to work in batches because there is a TONNE of dried fruit.
3. Melt the marg, sugar, rum and marmalade to make the elixir of craziness. Then add the apricots, pear and sultanas and bring to a simmer. Simmer for 10 minutes. Leave for 30 minutes to cool.
4. While the fruit mixture is cooling prepare your cake tin (20cms deep please - I also used a 9inch pan) and the chia seeds "eggs". Bash up the chia seeds in a mortar and pestle. As the cake is dense and you wont see the seeds I wouldn't worry about grinding them. Add the water and combine well. Let sit until ready. They will go all glugy like egg white - that's normal!
5. Mix the almond meal, sunflower seeds, pumpkin seeds and ground coriander into the fruit mixutre until well combined. Smooth out into your cake tin and decorate with blanched almonds if that's your thing.
6. Bake for 1 hour and 40 minutes. Let sit until quite cool before trying to remove from cake pan.
7. Impress EVERYONE with this amazing gluten free, vegan Christmas cake.
Enjoy beauties.