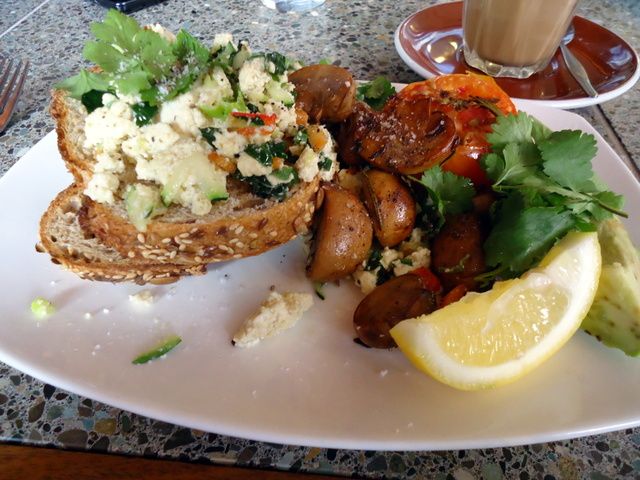 scrambled tofu w- capsicum, spring onion, zucchini, cavalo nero &cumin w- confit tomatoes, mushrooms & avocado on toast $16.50
smashed peas with caramalised walnuts and wild rice $17
Wide Open Road seem to have finally gotten through their teething problems (after doubling in floor space). It looks like it mainly consisted of getting all new staff. Which is great, the service was really bad for a long time.
The menu has had a huge renovation as well. There is at least 6 vegan labelled menu items, all very interesting. The scrambled tofu is pretty good and very different from most other scrambled tofus around town. It's dry, with big bits of crumbly firm tofu. It's not my favourite but perhaps you will like it?
The smashed peas are AMAZING. $17 for a vegan breakfast is getting waaay up there though and add another $2.50 for gluten free toast and a $20 breakfast is just too much money for me. Would prefer to go to the much maligned but still ok
Tom Phat
for their scrambled tofu. Having said that
Henry's Beans
are back on the menu and at $12 much more reasonable so that's what I got last time.
I'm happy to see Wide Open Road has recovered to it's former glory (unlike Tom Phat). We're still quite deprived in Brunswick South for eating out options.
deets:
274 Barkly Street Brunswick
web:
wide open road
$$:
as above
other voices, other times:
me
,
two
where's the beef?
vegan about town
green gourmet giraffe